Home » Culture, Horses, Mongolia
A Little About Mongolian Horses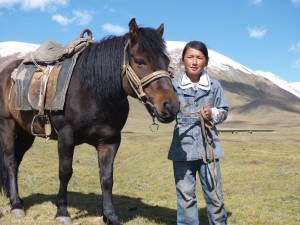 When I decided to do this project on horseback, I decided that I should probably learn a bit about the horses that I will be dealing with in Mongolia. Though the exact origins of the breed are hard to determine, it is generally thought that Mongolian horses descend from primitive wild horse breeds such as the Takhi (known in the west as Przewalski's Horse) and others which are now extinct.  Horses have been a staple of Mongolian society for virtually as long as it has existed, and horseback riding has been documented with the nomads of the central Asian steppes at least as far back as 2000 BC. The horses are very resistant to cold, and their hair is very fine and frequently used for the bows of the Morin Khuur, or Mongolian Horse-Head Fiddle.  Their hooves are also extremely tough and very few are ever fitted with horseshoes.
I am a semi-experienced rider (Western lessons in childhood and English lessons during college), but Mongolians are arguably the most skilled riders on the planet, and I don't want to look like an idiot when I get there. Once I decided that I would be doing this project on horseback, I started riding my friend Christiane's horse as often as possible. Kalumet is about as far from the physical stature of a Mongolian horse as I one can get, but any riding experience is better than no riding experience.  That said, there's still going to be a pretty steep learning curve because…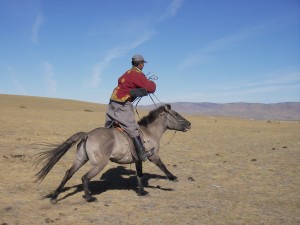 Mongolian horses are almost impossible for a western rider to prepare for. They are short, stocky, and most have five gaits instead of four (the fifth being a running walk variously called tölt, single-footing, or racking).  Mongolian horses are also typically not as "broken" as western horses, and are frequently wilder and more difficult to control. Whereas western equitation focuses on complete control of the horse as the pinnacle of achievement, Mongolian equitation focuses on having a horse that is capable of judging what is best for a given situation while the rider is busy with other tasks. Mongolians put a huge amount of trust into the abilities of their horses, and that changes they way that they ride.  The saddle itself provides a very stable seat due to its high back and front, but it only allows minimal control over the horse.  More control is given to the horse than in western riding, and I have read countless accounts of westerners trying to ride a Mongolian horse the way they would ride a western horse, and the Mongolian horses essentially rebel against such heavy-handed attempts at subjugation.  Mongolian horses are independent and expect to be allowed to think for themselves and judge what is probably best for the situation at hand. Most seem to prefer cantering in virtually any situation.  Racing horses will run at full gallop for over 35 km at a time, and they are trained to keep running even after losing their riders, so you have to make sure not to fall off!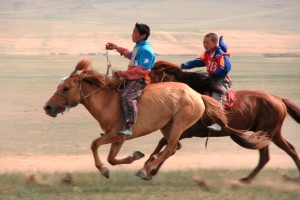 Though Mongolians do not typically name their horses as westerners do, they do frequently have favourites, and in groups each family member will have his or her own horse. These horses are generally valued more highly than other working horses, and are given somewhat preferential treatment.  That said, horses are primarily a working animal in Mongolia, and they are not pampered as they are in the west.  As a friend of mine says, "Mongolians see horses the way most people see their cars."
Being a short, somewhat stocky person much like your average Mongolian, I am really looking forward to finally being able to ride horses that are smaller than what you can get in the west.  I also eagerly anticipate finally being able to ride for as long as I want without worrying about running into a fence.  With Mongolia's lack of territorial fences, it's not hard to see how they are able to maintain such a strong, horse-based culture.  They have no boundaries.
[Photos by Kate MacLeod, Emilia Tjernström, Lee LeFever]